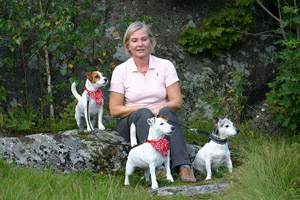 I breed Jack Russells under the breeder name of BoldandBrainy, which in my mind paints a sharp picture of this breed. Courage, flair and intelligence in the same package. Character that makes you laugh, move and sometimes irritated in all its tenaciousness. The same character that creates an image of a herd of Jack Russells following me… Until one of them finds a juicy trail, the other lingers under a tree to bark at a squirrel and the third dashes around unable to decide what is most interesting. Everything else but me, I suppose :o)
These I have three at home nowadays; Spotty-boy, which was my first Jack Russell, went to his last sleep in november 2009 at age 16 years. He lives in memories and in our hearts and we`ll never forget him.
Pipsa, Fearless Faith of Jack`s Paradise, the queen of the herd, treating her royal subjects sometimes like a loving mother and sometimes like a scolding headmistress.
Lissu, Busy Bumblebee of Jack`s Paradise, who has the nature of gently wrapping the whole family around her finger. Pipsa and Lissu are both from Jack`s Paradise kennel, Holland.
The youngest of my Jack Russells is Lissus daughter with Otwaymist Tuxedo, Boldandbrainy Arwen Undomiel, called Nuppu, we`ll see how she is going to develop!
Besides of my own dogs, we are often visited by Wimppa, my show-buddy from Pipsa's litter, and Mea, my placed female from Kylli`s litter.
Asta is going to have her first litter to kennel Boldandbrainy
Tytti had her first litter and now belongs to Marjo Kauhanen
Kylli had her first litter and lives nowadays in Sihvos family
My partner, Kari, and I live the winters in Piikkiö, near Turku which lies in southwest of Finland and the summertime by the sea in Karuna, where the dogs have a big yard and the surrounding forests all to themselves. In Karuna it's wonderful to spend sunny summer days with our mates and their Jack Russels!
I work in operationtheatre as a nurse and Kari is a superior in a firedepartment, so we get a lot of "action" at work! This bustling around with dogs works as counterbalance to our work:o)
We have from one to two litters from our kennel each year. Every combination is specifically designed taking health, character and the breed-definition into consideration.
Also the placed females have their litters in our apartment; the place and the dogs are familiar to them after many short and occasional longer visits.
The puppies are raised with us a home; the first weeks in their own privacy and after three or four weeks also with the rest of the herd, getting used to everyday life, which can be sometimes a bit hectic too.
If you are intrested of Boldandbrainy-puppy, please contact me in good time so that we can get to know eachother !
I think that the old saying "You've made your bed, now lie in it" is quite fitting to this breedig-thing.
There is no shortcut to happiness, all work is long and exacting, but good female-lines makes this a bit easier
This is more than just a hobby, this is a lifestyle that is hard to imagine being different.